Blog Archives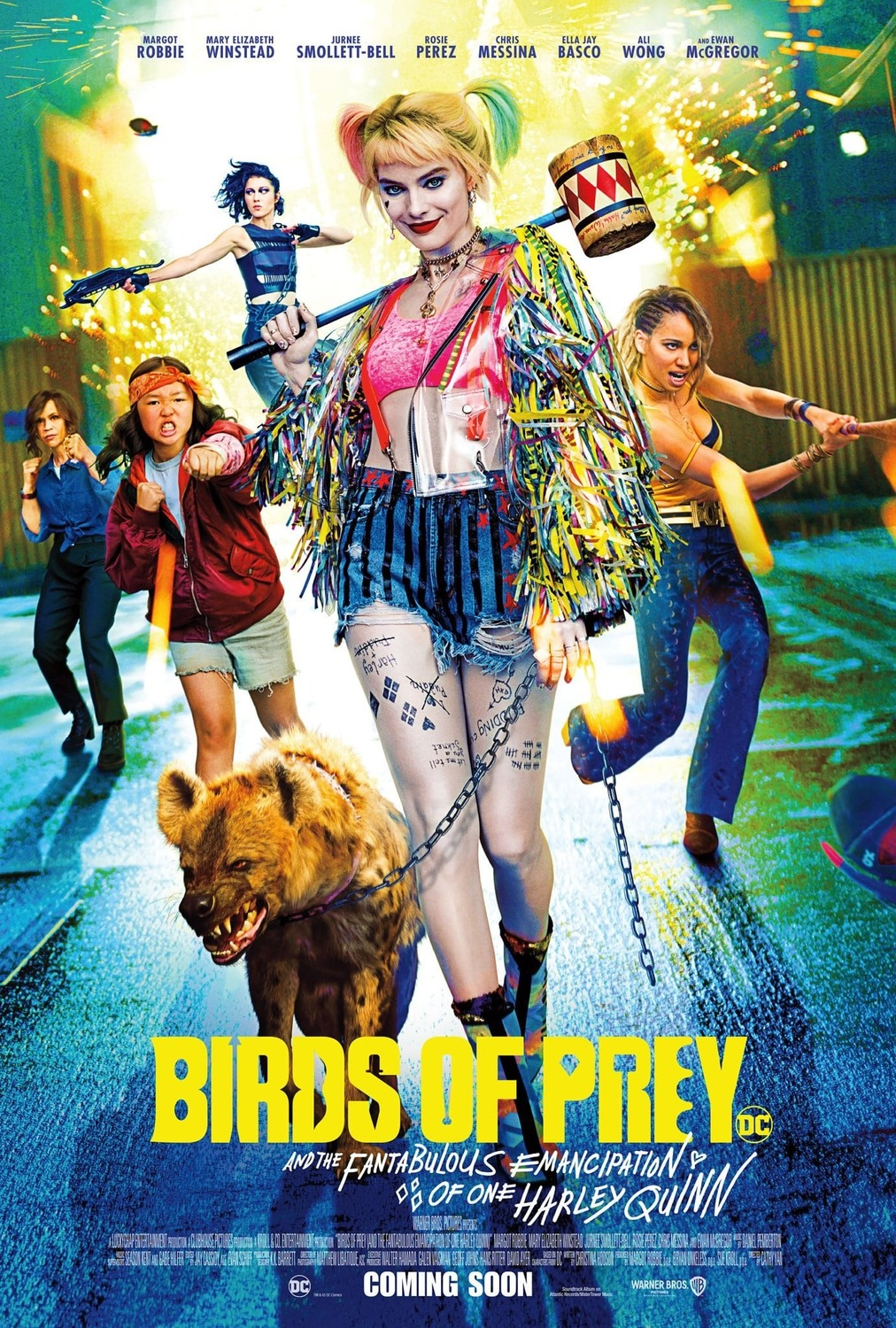 I've watched most of the DC movies. I don't know why I subject myself to them. They look nice, but the stories are always awful. It's almost as if the person working on the story read the wiki page, thinks they know the highlights of the characters and throws something together the night before.
This one is different. It's got a simple plot, there are flashbacks that fill things in. I guess you could say the story makes sense.
I've never been a big fan of the DC Comics. Not sure why. This movie, for me, is the best DC movie I've seen as far as the story goes. Good cast, decent effects.
But there's something about this one I can't nail down. Someday I may figure it out.
If you liked it, and the DC movies, I'm glad. I'd never deny someone a movie that makes them happy. For me, this one was alright. Perhaps it's because the Suicide Squad movie (for me) was so awful despite having an all-star cast.
/me shrugs
I post regularly over at sffworld.com and here is a post that some might find of interest. It's most of the reasoning behind why I went self-published vs traditional published. The main thread is here.
—
My two cents:
I decided to go the Indie (self-pub, whatever you want to call it) route. I've been writing since the 90s, been submitting stories and books since 1999. Been on these forums for quite some time. I've developed quite a thick skin. Over those years I've written over 100 shot stories (most of them are terrible) and 14 novels (a few of those suck and a couple have been completely rewritten). I've submitted to publishers and agents both big and small both via snail mail and email. I've collected a large number of rejection letters (all of them form letters for my novels). I've even attended conferences and had one publisher that said pull me aside for a personal conversation and had me pitch him my novels and asked me to send them along. After more than a year with no response, I decided it was time to take matters into my own hands.
First of all I've been watching the self-pub movement for quite a long time. I've watched the vanity presses suck in authors with hopes and dreams and watched people get taken. I've watched people toss their one book they spent 15 years writing and re-writing and watched them fail because no one bought their one book. I've watched podcasters skyrocket to stardom (Scott Sigler, Mur Lafferty, Nathan Lowell, Tee Morris, Philipa Ballantine) and a couple do very well being persistent and release multiple podcast novels to coincide with their novel releases (both traditionally and self-published), and others release one novel, release a book, and wonder why it failed. I've watched J.A. Konrath and read all his blogs. I've watched Dead Wesley Smith, Kristine Kathrine Rush, Michael Stackpole, Amanda Hocking, and many others go the self-pub route and have great success, but I've also watched a LOT of other smaller name authors have a level of success that has allowed them to quit their day jobs and write full time pulling in a nice annual income with many titles.
What I've seen is those that can produce a large volume of work reap the rewards. Those with one or two titles generally fail because they don't see immediate success and throw up their hands and give up. This isn't a game of throw your book out there and you're guaranteed success. You can't force people to your book in 6 months and expect it to be a hit. That just doesn't happen. All of the people I know that have made it spent years working hard to improve their craft and wrote a lot of books. Amanda Hocking release 9 books her first year and did so in a hot genre that helped her gain popularity. J.A. Konrath acquired his backlist and got better editing, better covers, and re-released them all. Same with others I mentioned. They fought for their backlist, got it, and put it out there. People couldn't find their backlist due to publishers not giving these authors priority. They're a rare handful.
As for me, I've done a couple podcast novels, but due to life happening I stopped. I had released one novel myself, but again, life happened and I stopped. This year will be different as I never stopped writing. I have a backlog of 14 novels and several in process of being written and/or plotted out. A couple of my older books I will be re-writting because I know I can make them better. I have a great and inexpensive cover artist. I have three friends that all proof read my work (one is a technical writer with a background in editing, another went to school for editing because when she retires she wants to be an editor, the other is just good at picking my stories apart for content). It's taken me many many years to reach the point where I' ready to get my stories out into the world. I also have a backlist of my own stories that I've had edited, I just need covers, book layout, and I can get these books out the door and into readers hands. I've spent nearly a decade watching the market, the self-pub movement, and keeping an eye on what's worked and what hasn't.
I didn't come to this decision lightly. I would love to have a standard publishing contract from a major house, but I'm not getting any younger and I'm frankly tired of waiting and submitting and waiting and being rejected. I haven't been idle and I know it'll take a long time to gain readers. Going this route, for me, won't mean overnight success. It might take me another five or ten years to gain an audience, but I need to keep at it and keep trying. Getting my books out there, going to cons, doing interviews on podcasts or where ever I can, and doing blog tours, anything to get my name out there. I also need to keep a steady stream of books flowing out. I need good covers. I need good editing. I need to be patient.
If you're wondering, I currently have 5 titles out (2 middle grade, 1 collection of short stories, and 2 novels). I currently sell about one book every other day. That's since the start of this year. I'll be releasing two more books next week (1 middle grade in the same series, 1 sci-fi thriller novel). I'll be releasing another novel next month. I'll be re-releasing my first self-pubbed book with better editing the month after that. I'll be releasing at least one novel per month for the rest of this year. If I'm lucky, I hope to sell a book a day by the end of the year). I've got next year planned out and I'm writing books to release next year, this year. I've got 10 years worth of books planned out and I have no real intention of stopping. I've got many more ideas than I can write in a short period of time and I am a fast writer. Last year I wrote 490,000 words. This year I've written 100,000 thus far and I'm shooting for 365,000 as a good goal given my release schedule. I've got a spreadsheet to track my progress. I've got friends pushing me to stay on track. I've communicated with my family my goals for the coming years.
Even with all of this in place, I still might fail. That's a very real possibility. But if I don't get books out there and try, I'll fail before I start. I can't have that. I have to give it a try.
So what am I getting at with all of this? Don't just jump into self publishing without being aware of what you're getting into . Don't think this is a road to riches. If you've got one book, I would recommend rethinking and keep trying to get that book through a traditional publisher. Write another book, and another, and another while you wait. If you've built up a number of books and you're still not getting anywhere with traditional publishing, then consider self publishing. Understand that you'll need to learn cover design, you'll have to learn scheduling, you'll have to learn book layout, you'll have to build your blog and your website, you'll have to learn all the distribution outlets for your book and ebook, you'll have to learn all those systems for getting your books into the hands of readers. Yes, you could take your word doc and throw it up on kindle tomorrow, but ask yourself what you're hoping to get out of it? You'll only get out what you put in and there is so much to learn.
I said a lot more than I intended. Wow! I'm sure I could say a lot more, but suffice to say, do your homework before making the jump. Don't just jump and hope. Hope doesn't sell books.
Last night the Action Pack Podcast went live. The three of us involved with this endeavor are quite excited. The concept is serialized fiction spread out over a year. Each story will end on a cliffhanger and a new episode will come out each month. There will also be print editions available over at Flying Island Press. You can pick up the podcast at Action Pack Podcast. Stop by and let me know what you think.
My fellow authors, Mike Plested and Scott Roche, are also helping generate noise (buzz?) about the podcast. Stop on over at their sites and see what they're all about. All three of us are quite busy podcasters and writers. Don't forget to check out Dan Dan the Art Man, the man responsible for our artwork!
As for writing, it was another productive day. Got another 2000 words out. It nice when I hit a flow and can roll with it. Hopefully I can keep this pace up during Lent and carry it on beyond. I'm already 4 days ahead of my yearly writing schedule. This is important because the last thing I want to do is fall behind again. I was able to get caught up and now ahead. I see no reason to stop now.
I finished a short story and sat on it for a couple of days. I had three or four 'ah-ha' moments and those went into the revisions. I'm now waiting for a response and requested edits (edits will always be requested, I'd be surprised if they weren't). I'm quite happy with how the story turned out. I can't want to see how it does once it makes it out into the wild.
Now more about how I got to where I am today.
After spending nearly five years as a starving musician, I decided that being in a band just wasn't in the cards. It was a good run, but unfortunately I could not motivate the guys beyond small clubs and it was all on my to do any promotion, book gigs, etc. Combine that with the lead singer wanting to be the only creative force in the band, and I felt stifled. I had creative ideas that I needed to get out.
I did not explain this in earlier updates, but this was when I really had to take a look at what I wanted to do with my life. In high school, I played D&D. Sean and I both played and continued to play as adults. I loved the game. I had decided to write a book based on our characters. Yes, one of 'those' books. There were many stops and starts during high school, in the Navy, even while I was in a band. I just could not get the story going.
After leaving the band, I had a great idea for the story. Yes, the characters were still based on the D&D characters, but everything D&D was out of it. Well, to some extent. There were still monsters and random encounters, but I had decided to make it more of a story and less of an adventure. I had to get them to meet in a way that made sense. I had to have a story that I could tell.
Well, suffice to say it sucked. I trashed it again.
Then I met a comic book artist. He was just getting started and he was GREAT! I had gone back to school at ITT Tech to get a degree and I wrote pages at night. He agreed to pencil the work. I got cranking on the script. I was excited. I was going to write a COMIC BOOK! WOO WOO!
The guy was really good. He went on to write Warrior Nun Arela, moved on to be an intern with Jim Lee (I got to go to the studio and meet his entire crew, that was awesome) and eventually moved on to Marvel and last I heard he was doing Catwoman for DC. He's done well and I'm glad he did. I don't know that doing a little independent comic with me would have helped him that much. Check out Pete Woods as he's done great things in the field of comics.
So after this period of time, I kept on writing Of Gnomes and Dwarves as a comic. I had decided that the first run would be 15 issues telling one storyline and then I'd move on to the next storyline. I wrote 48 or 49 issues before i ran out of steam and could not find another artist. I tried submitting my work, but it was rough and I go no interest.
I dove back into school. It was very easy for me because it was basically a rehash of my Navy 'C' school. Getting 'A's was as easy as staying awake in class. My comic had been shelved, but I was still happy to talk about it to anyone and everyone who would hear about it. They all thought I was nuts, but that it was cool that I'd written something even if it wasn't published.
I got to work on 8080s and 8088s and we even upgraded an 8088 to a 286. This was at a time when a 386 was cutting edge. If you don't have any idea what I'm talking about, don't worry. These were IBM computers and the PC was just starting to take hold. It was before the computer explosion of the mid-90s. These things weren't cheap, but they were getting there.
Then I met the woman who would become my wife. More on that, tomorrow.
Until Tomorrow!
WOO WOO!